Garmin Fenix 6 Solar, Silver with Black Band with HRM-Tri
Price Match:

Hey, fellow sportsperson, It's Kevin here the owner of this super cool website.
I would like to ask that if you find this unit listed cheaper at another store please give us the opportunity to try beat or at least match that price for you. Please drop us an e-mail via the contact us page with a link to the competing product for us to review.

Remember, we are a small & dedicated team that are trying our best during this challenging time and affording us the opportunity to try to compete against the really big corporate stores can only be done with your assistance. By supporting our small business you are helping us keep our team working and supporting their families.

Thanking you in advance,
tx
Kevin
Garmin Fenix 6 Solar, Silver with Black Band with HRM-Tri BUNDLE DEAL
HARNESS THE POWER OF THE SUN
Featuring a Power Glass™ solar charging lens and customisable power manager modes, this smartwatch can stay on and performance-ready for weeks.
Get a battery boost from the sunlight, so you can go longer between charges.
How is your body holding up? Wrist-based heart rate1 and Pulse Ox2 will let you know.
Need running pace guidance that knows the terrain? Check out the PacePro™ feature.
Leave the cord at home. Solar charging lets you get up to 14 days of battery life — and then some!
QUALITY BY DESIGN
The rugged yet sophisticated design features a large 1.3-inch display. It is tested to U.S. military standards for thermal, shock and water resistance.
PREMIUM MATERIALS
Fit the look to your lifestyle with your choice of titanium, stainless steel or DLC coated bezels.
Push performance to a whole new level.
You reach new heights. Your watch goes with you.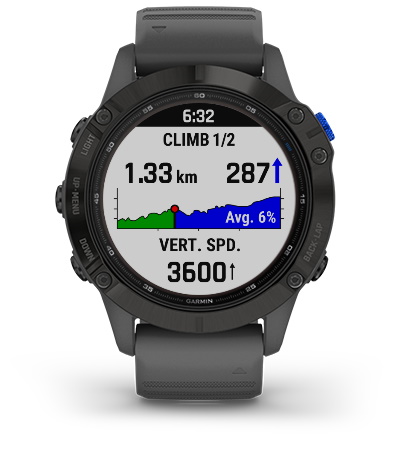 CLIMBPRO FEATURE
Use ClimbPro ascent planner on downloaded courses to see real-time information on your current and upcoming climbs, including gradient, distance and elevation gain.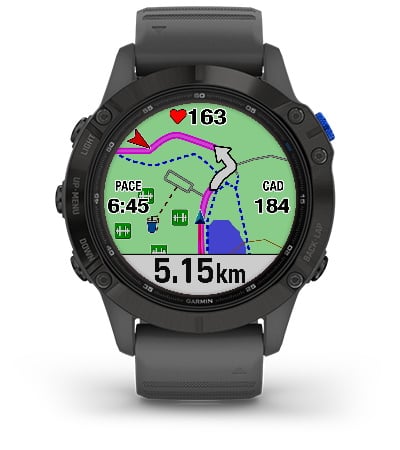 MULTI-GNSS SUPPORT
Access multiple global navigation satellite systems (GPS, GLONASS and Galileo) to track in more challenging environments than GPS alone.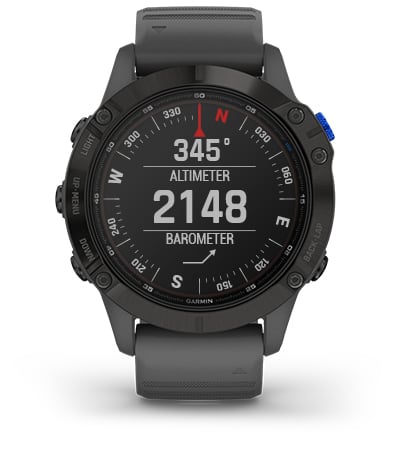 ABC SENSORS
Navigate your next trail with ABC sensors, including an altimeter for elevation data, barometer to monitor weather and three-axis electronic compass.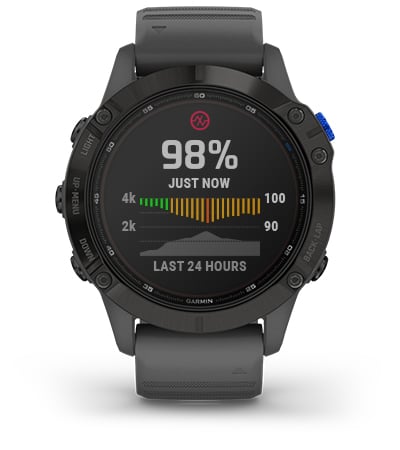 PULSE OX SENSOR
For altitude acclimation or sleep monitoring, a Pulse Ox2 sensor uses light beams at your wrist to gauge how well your body is absorbing oxygen.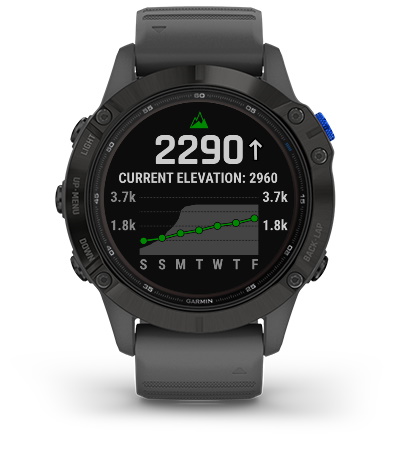 ACCLIMATION
This widget shows your current elevation, acclimated elevation and correlated Pulse Ox2, heart rate1 and respiration rate, so you can see how you're holding up to the current elevation.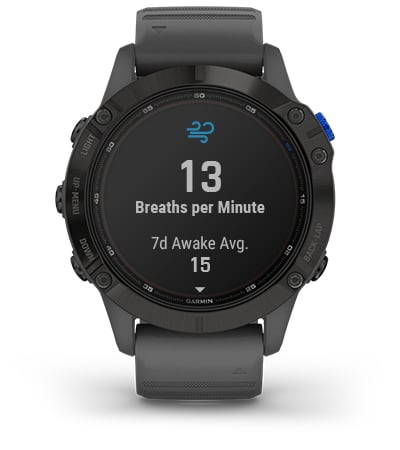 RESPIRATION TRACKING
See how you're breathing throughout the day, during sleep and during breathwork and yoga activities.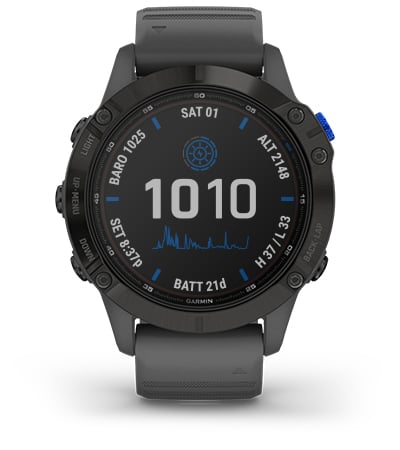 EXPEDITION MODE
Trek far and wide between recharges. Expedition mode, an ultra low-powered GPS reference, lasts for weeks.
You'll feel a connection in more ways than one.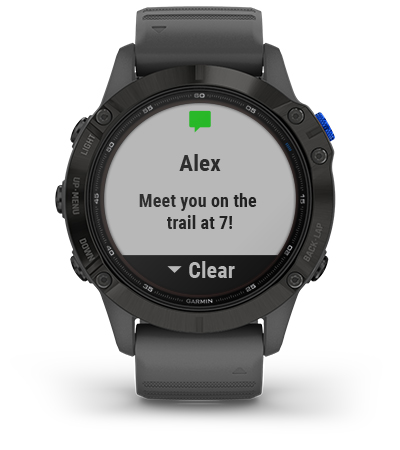 SMART NOTIFICATIONS
Receive emails, texts and alerts right on your watch when paired with a compatible device.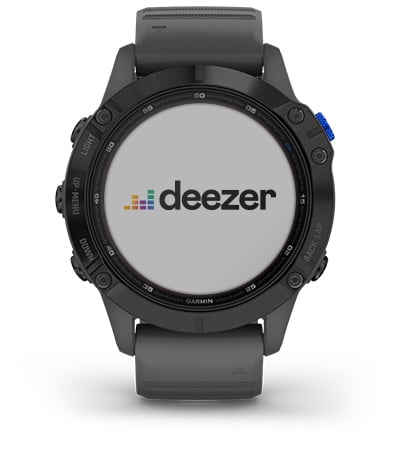 MUSIC APPS
Store up to 2,000 songs, or access streaming apps from your compatible services including Spotify®, Deezer and Amazon Music, and listen through headphones with Bluetooth® technology.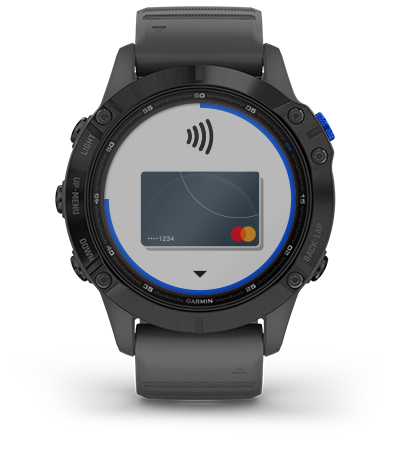 GARMIN PAY
Breeze through checkout lines with Garmin Pay contactless payment solution through participating providers.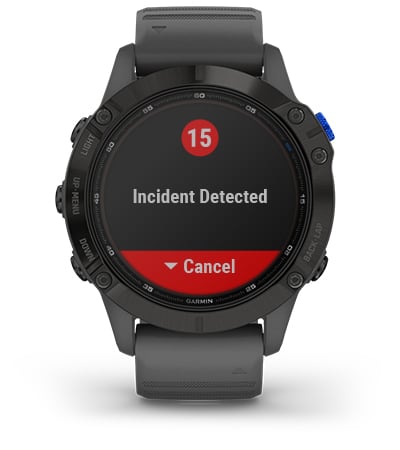 SAFETY AND TRACKING FEATURES
If you feel unsafe or if your watch senses that an incident occurred, assistance and incident detection features5 send your location to emergency contacts.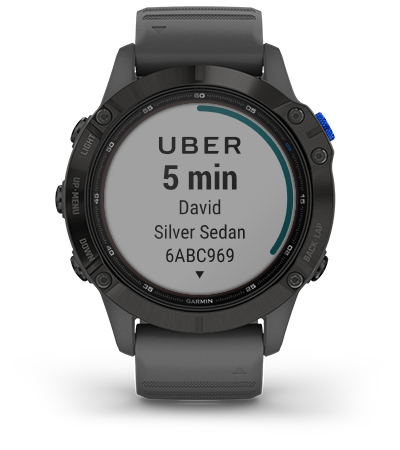 CONNECT IQ™ STORE
Download custom watch faces, add data fields, and get apps and widgets from the Connect IQ Store.
HRM-TRI
Heart Rate Data in all Three Disciplines
Specifically designed for triathletes
Our smallest and lightest heart rate monitor (HRM)
Comfortable, easily adjustable strap
Stores and forwards heart rate data to your compatible device1

Enhance your triathlon experience by pairing HRM-Tri with your Forerunner® 920XT1. The HRM-Tri stores heart rate data when underwater, then forwards it to the device. Our smallest and lightest module fits within the width of the strap. Its soft, rounded edges and covered seams make the strap super-comfortable out of the water, too.
Running Dynamics
HRM-Tri also has an accelerometer in the module that measures torso movement to calculate 3 running metrics:2
Cadence — the number of steps per minute. It displays the total steps (right and left combined).
Vertical oscillation — the bounce in your running motion. It displays the vertical motion of your torso (measured in centimeters). HRM-Tri is compatible with several other fitness products but will only display heart rate when paired.
Ground contact time — the amount of time in each step that your foot spends on the ground while running (measured in milliseconds).
Physical Specifications
Unit dimensions (LxWxD): 60.0 - 142.0 x 3.0 x 1.2 cm
Weight: 2.1 oz (59 g)
Module size: 29.4 x 51.4 x 8.5 mm
Module weight: 49 g
Size adjustment: Bi-fold
Sizing range: (60.0 - 142.0 cm
Battery: CR2032
Battery life: 10 months (Tri training 1 hour per day)
Water rating: 5 ATM


Additional
ANT+® heart rate: yes
Supports heart rate variability and advanced heart rate features: yes
2.4 GHz ANT wireless communication protocol: yes
Running dynamics: yes
Stores and forwards heart rate: yes
Swim interval heart rate statistics: yes
Non-slip design for pool swimming: no
Pool chemical resistent: no
Compatible Devices: 

Descent™ Mk1
Edge® 1000
Edge® 1030
Edge® 1030 Plus
Edge® 130
Edge® 130 Plus
Edge® 25
Edge® 530
Edge® 810
Edge® 820
Edge® 830
eTrex® 30x
eTrex® 32x
eTrex® Touch 35
fēnix® 3
fēnix® 3 Sapphire
fēnix® 3 Sapphire HR
fēnix® 5S
fēnix 6
fēnix 6 - Pro and Sapphire editions
fēnix 6 - Pro Solar Edition
fēnix 6 Solar
fēnix 6S
fēnix 6S - Pro and Sapphire editions
fēnix 6S - Pro Solar Edition
fēnix 6S Solar
fēnix 6X - Pro and Sapphire editions
fēnix 6X – Pro Solar Edition
Forerunner® 735XT
Forerunner® 920XT
Forerunner® 935
Forerunner® 945
Garmin Swim™ 2
GPSMAP® 64s
GPSMAP 64sx
GPSMAP 66i
GPSMAP® 66s
Instinct®
MARQ® Adventurer
MARQ® Athlete
MARQ® Aviator
MARQ® Captain
MARQ Captain: American Magic Edition
MARQ® Commander
MARQ® Driver
Montana® 610
Montana® 680
Oregon® 700
Oregon® 750
quatix® 5
quatix® 5 Sapphire
quatix® 6
quatix® 6 Titanium
quatix® 6x Solar
tactix® Bravo
tactix® Charlie
tactix® Delta - Sapphire Edition
tactix Delta - Solar Edition
VIRB® 360
2 This is not a medical device and is not intended for use in the diagnosis or monitoring of any medical condition; see Garmin.com/ataccuracy. Pulse Ox not available in all countries.
3 All-day wear, three hours per day outside in 50,000 lux conditions.
4 Use in 50,000 lux conditions.
SPOTIFY and the Spotify logo are among the registered trademarks of Spotify AB. Amazon Music and all related logos are trademarks of Amazon.com, Inc. or its affiliates. The Bluetooth word mark and logos are registered trademarks owned by Bluetooth SIG, Inc. and any use of such marks by Garmin is under license.